As part of a yoga workshop I was at last weekend, there was a presentation on some of the Hindu deities and archetypes. I've always liked Ganesh, or Lord Ganesha if you prefer. He's half elephant, and elephants are awesome. Plus he is known as the remover of obstacles, and who doesn't have some obstacles that need removing?
Chocolate Ganesha, removing the obstacle of hunger.
Ganesha in a bar, removing the obstacle of sobriety. Or perhaps he was blocking the path to the bar, adding an obstacle. One never quite knows what Ganesha is up to.
The presenter, Dr. Manoj Chalam, clearly could have spoken for days, his knowledge was so vast, but instead he had an hour to discuss the symbolism and archetypes of a few deities. Luckily he started with Ganesh, and briefly made reference to an article his friend had written linking
John Goodman with Ganesha
. How could I have missed this? It is so obvious once you see.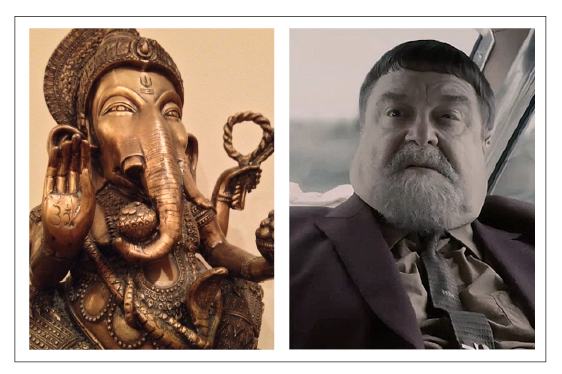 It is all ok. Nothing is fucked here, Dude.
Dean Sluyter writes:
"
As with all the gods, the point of Ganesh is that he is us -- us when we have stepped into our full glory, no longer crammed into the rickety little poor-me/great-me life stories we've been driving around in all this time. Ganesh's big ears are for ever-receptive listening. His trunk is strong enough to uproot a tree, yet sensitive enough to shell a peanut:
that's
how to do stuff. No pale ascetic, he chows down on platefuls of sweet desserts. And with all his great mass, he loves to dance. In short, he's a lot like John Goodman."
So, in honor of John Goodman, The Big Lebowski, Ganesha and the general state of the world, I've added a new saying to my Etsy shop.
Big Lebowski key chain available at etsy.com/shop/FYeahJewelry.
Nothing is fucked here, Dude
. Of course, everything IS fucked, too. But its all ok.